With the advent of the neo-modern society, the number of people considering and availing treatment in private hospitals is increasing. With the government making new laws and frameworks to provide better health care services, it has now become more affordable to avail private hospitals. These private hospitals provide world-class services and are not hard on the pocket. As the government hospitals remain overcrowded and fail to provide prompt services, demand for the private hospitals have increased. These hospitals have the best staffs and doctors along with the best technology from around the world. This is a list of private hospitals in Gurugram (Gurgaon) city providing the best healthcare services along with their contact details. There are some of the best private hospitals in India with some of the best private hospitals in Mumbai, best private hospitals in Delhi, best private hospitals in Kolkata and some of the best private hospitals in Hyderabad.
Top 10 Best Private Hospitals in Gurgaon
The best private hospitals in Gurgaon, maintain an international standard and has the best medical practitioners, most well-equipped facilities, modern infrastructure and technologically advanced equipment. After being India's number one job hub, this city is now aiming the health sector.
Columbia Asia Hospital Gurgaon
Columbia Asia Hospital is a 90 bed multi-specialty facility situated in an upscale locality of the National Capital Region. The hospital began its services in July 2008 and has already become a preferred healthcare service provider for the residents of Gurgaon. The hospital offers a wide range of clinical services such as Obstetrics & Gynaecology, Internal Medicine, General Surgery, Paediatrics, etc. Columbia Asia Hospital is today considered as one of the best hospitals in Gurgaon. The hospital has international standard infrastructure and follows globally benchmarked standards of medical, nursing and operating protocols and is rapidly becoming the preferred healthcare destination for International Patients. You could book an appointment online.
Address:  Block F, Gol Chakkar, Near Ansal Plaza Mall, Palam Vihar, Gurugram, Haryana 122017
Phone: 0124 616 5666
Metro Hospital & Heart Institute
Metro Hospital Delhi provides a friendly and collaborative healthcare atmosphere, which is supported by the best technological and infrastructural experience. It is the part of the Metro group of hospitals which have its branches spread all over across the Delhi NCR region. With many achievements under its sleeve it is undoubtedly one of the best private hospitals in the Gurgaon region. You can take a look at their OPD schedule here.
Address:  H – Block, Palam Vihar, Gurugram, Haryana 122017
Phone: 0124 477 7000
Fortis Memorial Research Institute
Fortis is a name which is synonyms to the complete care and best healthcare services all around the country. It is considered the best healthcare service provider in the country. It hosts some of the most popular doctors from the country and meticulously trained professionals. With some of the most impressive medical feats, we can be pretty confident about the healthcare we will be receiving and can rest assured. Fortis Memorial Research Institute is the first ever fortis hospital in India and is one of the best private hospitals in Gurgaon. Their OPD schedule is available on their site.
Address: Sector – 44, Opposite HUDA City Centre, Gurugram, Haryana 122002
Phone: 0124 716 2200
The CK Birla Hospital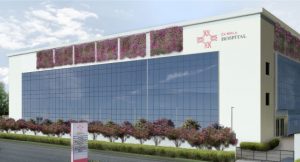 The CK Birla Hospital, Gurgaon is a part of the prestigious CK Birla group known for its contribution to the healthcare sector in the country. The CK Birla Hospital is a multi-specialty hospital established with the vision of providing medical services of international standards with utmost transparency and ethics. Their policies and protocols are founded on the guidelines defined by the NHS (National Health Service, UK). Following in the footsteps of their parent organization, the CK Birla Hospital emphasizes innovation and excellence to provide quality healthcare services to the patients. Their care team of doctors and support staff has international accreditation and experience. Their passion for advancements in the field of medicine has enabled them to define a number of milestones in the industry, setting them apart. They are known for exceptional patient care and compassionate post-treatment support. Book your consultation with any doctor at the CK Birla Hospital, Gurgaon today.
Address:

 

Block J, CK Birla Hospital, Mayfield Garden, Sector 51, Gurugram, Haryana 122018
Contact No: +91 124 4882200
Artemis Hospital
Artemis hospital is one of the best private hospitals in Gurgaon, but in India. Artemis Health Institute, established in 2007, is a healthcare venture launched by the promoters of the Apollo Tyres Group. Artemis is the first and only Hospital in Gurgaon to be accredited by Joint Commission International (JCI) (in 2013). It is the first hospital in Haryana to get NABH accreditation within 3 years of start-up. With the customer testimonials to support its claim of being one of the best, the technological support and experienced team of doctors make it one of the prime choices for the people to consider it as their choice for complete healthcare for themselves and their loved once. You can get an Artemis Hospital appointment online. You could find the preferred doctor and book an appointment online.
Address: Sector 51, Gurugram, Haryana 122001
Phone: 0124 676 7000
Max Hospital Gurgaon
Max Hospital experts have treated 5 lakh+ patients across 25+ specialties like Cardiac Sciences, Minimal Access and Laparoscopic Surgery, Neurosciences, Urology, Orthopaedics, Aesthetics and Reconstructive Surgery and Nephrology. Max Hospital is a 74 bedded healthcare facility equipped with an endoscopy unit, Radiology and pathology diagnostics and other support specialties. With over 2.8 million patients from countries all over the world Max hospital is one of the best hospital in the Gurgaon city. One can blindly rely upon the experts of the Max hospital for the treatment of their dieseases. You can book an appointment online.
Address:  B – Block, Sushant Lok – I, Opposite Huda City Centre Metro Station, Gurugram, Haryana 122001
Phone: 0124 662 3000
Medanta- The Medicity Gurgaon
Medanta – The Medicity is one of the best private hospitals in Gurgaon and one of India's largest multi-super specialty institutes . Founded by eminent cardiac surgeon, Dr. Naresh Trehan, the institution has a vision of bringing to India the highest standards of medical care along with clinical research, education and training. Medanta is governed under the guiding principles of providing medical services to patients with care, compassion, commitment. The institute includes a research center, medical and nursing school. It has 1250 beds and over 350 critical care beds with 37 operation theatres catering to over 20 specialties. With such speciality services Medenta can be considered one of the best healthcare service provider in the world. Their doctors list is beyond impressive.
Address: Sector 38, Gurugram, Haryana 122018
Phone: 0124 414 1414
GNH Hospital
GNH Hospital at Gurgaon is multi super specialty hospital catering to patients from all over the world. The hospital has truly put the city of Gurgaon on the international map as large number of patients from different parts of the world come to the hospital for advanced medical treatment, not available in their country. GNH can boast of some celebrity customers the most notable being Virat Kholi. GNH is truly the best international super speciality hospital in Gurgaon. You could get an appointment online.
Address: GNH Tower, Near Sector-14, MG Road, Opp. Govt Girls College, Gurgaon, Gurugram, Haryana 122001
Phone: 0124 482 7000
VPS Rockland
VPS Rockland, a part of VPS Healthcare group, is an internationally renowned network of 19 hospitals in the United Arab Emirates and Oman is making inroads into the Indian Healthcare space by setting up a chain of multi-specialty hospitals in Delhi NCR (National Capital Region) India. Three strategically located hospitals at Qutab Institutional area, Dwarka and Manesar embraces 800 bed capacity with a dedicated team of over 1000 employees including 150 world class distinguished Doctors and around 400 Nurses to build a fully integrated healthcare delivery system to provide primary, secondary and tertiary care services. With international background the customers could get some quality healthcare services which has made a name for itself in the middle east.
Address: Plot No. 2, Sector 5, IMT Manesar, Gurugram, Haryana 122001
Phone: 0124 475 5555
Park Hospital
Park group of hospitals is one of the fastest growing healthcare chain in the Delhi NCR, India. With 1500 beds is now become one of the leading group of hospitals of the Gurgaon region and one of the best in Gurgaon. Established by Dr. Ajit Gupta in the year 1982, this hospital boasts of the best doctors and nurses around the Gurgaon region.
Address: Q Block, South City 2, Sohna Road, Main Sec-47, Gurugram, Haryana 122001
Phone: 1800 102 6767
Jain Hospital
Jain Hospital is a renowned, NABH Accredited super specialty hospital located in the Delhi NCR. With a commitment towards providing the very best in healthcare, the Hospital has several super specialty wings including a Neuro centre and a fertility & IVF clinic. Equipped with the latest technology in critical health care and a fine team of doctors, yet affordable makes Jain Hospital the preferred destination for every health concern. The Jain Hospital has one of the most affordable prices and best possible healthcare services for the prices.
Address:  853, Sector 14 Main Road, Furniture Market, DLF Colony, Gurugram, Haryana 122001
Phone: 0124 238 1320
Conclusio
The number of private hospitals have increased with the increasing demand for better healthcare services and the incompetence of the government hospitals in providing the best services. This list of the best private hospitals in Gurugarm(Gurgaon) will surely help in finding the best hospital suited for you. The state-of-the-art technology and world-class comfort provided by these hospitals attract people even from all around the world. These are the best private hospitals in Gurgaon which are affordable as well as provide best healthcare facilities.