Dental care has redefined itself in God's own country, Kerala. Dentistry has touched tremendous domains in recent days, that dental tourism is flourishing in Kerala. Thanks to some of the best dentists in Kerala who have mastered their hands in different domains of dentistry starting from mere tooth extraction to facial bones recontouring. They have some of the most satisfied clients across the country and abroad for the dedicated dental care services the state offers in its state of the art dental care centers. Recent and advanced equipments are used in these centers designed with state of the art infrastructure, coupled with highly qualified dentists who render the entire dental package at the most affordable cost possible.  
Top 10 Best Dentists in Kerala
Dr. Seby Varghese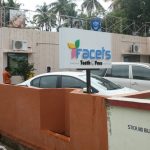 Dr. Seby Varghese heads the department of dentistry at Facets Dental Clinic, Kochi, Kerala. He is an expert in cosmetic dentistry and has more than 22 years experience in different facets of dentistry such as, Dental Implants Dental surgeries, Root Canal Treatments, Dental Aligners, Orthodontic Braces, Dentures, Gum Treatments, Children Dentistry and other family dental services. His clinic is simple, straight & best – Budget Dental Clinics in Kochi for both domestic or International patients on dental tour or vacation for facelift dentistry. Dental treatment costs are displayed in the clinic lobby as they follow the best practices. Thier aimed is to make your dental wellness sessions in Facets Dental Clinic a Delightful Experience! You can consult Dr. Seby at his clinic Mon – Sat, 9:30 am to 7:00 pm. He is  available on patient request in FortKochi, Kaloor, Edappally and other branches in the state.
Address: Facets Dental – 12 Girinagar,Kadavanthra, Kochi 20
Phone : 9020160160/ 7025562556/ 8606229998
Dr. Suma Menon N.
Dr. Suma Menon is an consultant periodontist with about 7 years experience in the field of dentistry. She is one of the Top 10 best dentists in Kerala for her special interest in Periodontal regenerative procedures and periodontal aesthetic and plastic surgeries. She is an expert in rendering both basic and advanced dental procedures and has completed her research fellowship in Oral implantology from the University of Minnesota. She has acquired specialised training in the use of lasers in Dentistry and consults at Aster Medcity, kochi kerala
Address:  Aster DM Healthcare Pvt Ltd South Chittoor P.O, Cheranelloor, Kochi – 682027, Kerala, India..
Tel: +91 484 66 99 999
Dr. Jijo Paul
He is an expert dental surgeon with more than 15 years experience in the field of dentistry, dental Implantology and Maxillo-Facial Prosthesis. He has a feather to add on his crown that he was the first dentist in India to have developed a mouth stick appliance for paralyzed patients. He is also the developer of the country's first indigenous closed field magnetic support dentures and craniofacial prosthesis. He has served as a consultant at Cochin International Airport, Emergency services and at present consults at Aster Medcity, Multispecialty dental clinic in Kochi.
Address: Aster DM Healthcare Pvt Ltd, South Chittoor P.O, Cheranelloor, Kochi – 682027, Kerala, India..
Tel: +91 484 66 99 999
Dr. RajKrishnan
Dr. RajKrishnan is a trained and specialized conservative dentist and endodontist with decades of experience in dentistry. He is an experienced implantologist who has been performing dental implants since 2002. HIs special area of expertise is computer guided implantology.  He is practicing at Dr. Rajkrishnan dental clinic that offers international dental care and specialty treatment. The clinic offers a multidisciplinary approach towards dentistry through best infrastructure, latest equipments and expert dental procedures starting from tooth extraction to cosmetic and aesthetic dentistry.
Address: North Fort Gate, Tripunithura, Cochin, Kerala
Dr. Ihsan Ahmed
He is one of the charming and popular dentists in Kerala who has to his credits a number of satisfied clients in terms of dental care. He is the chairman and one of the founding member of MIDAC Dental and Medical Center. He is a trained and specialized Orthodontist, cosmetic dentist and Implantologist. His areas of interest includes facial growth modification, treating temporomandibular joint related problems, labial orthodontics, lingual orthodontics and laser dentistry. He is available for consultation in his clinic on Sundays and Mondays.
Address: Midac dental clinic, Near Passport Office , Mini Bypass, Calicut 6.
Dr. Hema Sangamithra
She is one of the most best dentist in Kerala, orthodontist and root canal specialist practicing at Yoga Dental Clinic. Her Clinic offers state of the art dental services at the most affordable cost possible. All latest dental procedures are performed here through state of the art equipment. She follows international standards of sterilization and cross infection in her clinic. Her specialized areas of expertise includes general dental care, children's dentistry, child and adult orthodontics, gum disease treatment and gum surgery, tooth extraction, cosmetic dentistry and the surgical insertion of dental implants to replace missing teeth etc.
Address: 5, Mosque building, Pukattupady road, Kangarapady, Kochi, Kerala 682021.
Dr. Prof. Sanil P George
He is a functional aesthetic dentist, with years of experience in aesthetic dentistry, implantology and laser dentistry. He is qualified and trained in oral and maxillofacial pathology, oral radiology, periodontics, preventive and restorative dentistry, care of temporomandibular disorders etc. He is available for consultation at Cochin Dental Care where periodontal surgeries and cosmetic dental surgeries are an everyday affair.  He is a popular dentist in Kerala for his personalized dental service and his client's testimony to have had a wonderful dental experience while they were in his care.
Address: kr & f square,near bmc,sea port air port road,kakkanad,, cochin, kerala, 682021
Dr K. L. Baby
She consults as a principal consultant at Shanthi Dental Clinic and has completed her masters in General Dentistry. Her dental clinic is the state of the art dental clinic located conveniently at Thrikkakara, Kochi. Her dental treatment approaches are chosen meticulously to treat even the most complicated dental problems at ease.
Address: Shanthi Dental Clinic, M.V.Road (Vyttila – Thammanam Road), vyttilla, kerala, 682019
Soman's International Cosmetic Dental Centre
Soman's International dental center is a pioneer in different dental treatment and has been in service since 1973. The center is based in Cochin and has the best equipment and infrastructure. Some of the most popular dentists in Kerala are consults in here in different specialties such as orthodontics, cosmetic dentistry, periodontics, mouth rehabilitation dental implants etc. The services offered here are client friendly in terms of affordability. A thorough assessment is made on the dental condition by expert panel and treatment modalities are discussed with the client to constitute an informed treatment regimen for clients.
Address: Somans cosmetic specialty dental clinic, Opposite Girls high school, Ernakulam South, Cochin – 31.
Dr. Rizwan's Specialty Dental Clinic
This dental center offers the ultimate dental care for people of all ages with a holistic approach in dental treatment. The dental center offers one stop solution for all the dental problems. Specialized services offered in this clinic are conservative dentistry, orthodontics, prosthodontics, pedodontics etc. The team of highly qualified dentists with vast experience in the field of dentistry offer world class dental care to their clients at the most affordable cost possible.
Address: Dr. Rizwan's specialty dental clinic, Deshabhimani road, Elamakkara, Ernakulam- 682026.
Conclusion:
These Top 10 Best dentist in kerala has redefined dental care in the state, they educate their clients with basic dental care such as brushing and flossing the teeth regularly and treat them for the most complicated dental problems as well. They make informed treatment decisions with their clients are are ready with even the most complicated procedures as well and make their clients feel they are at safe hands.
Source:
http://www.whatclinic.com/dentists/india/kochi