Top 10 Best Government Hospitals in Kolkata
Top 10 Best Government Hospitals in Kolkata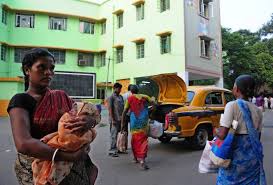 B.R.Singh Hospital-Sealdah-Eastern Railway
In the year 1934, the first Railway agent and the then acting GM of the Eastern Railways established a small health unit for its employees near Sealdah Railway Station. It is one of the Top 10 best Government Hospitals in Kolkata that is well equipped and well maintained with a reasonable bed strength. It acts as a referral center for employees and their dependents from south eastern, East Coast, East Central and North Frontier railway zones. It offers preventive, diagnostic and therapeutic treatment in the stream of General medicine and Surgery, OBG, Opthalmology, Anesthesiology, Pediatrics and Pathology.
SSKM Medical College and Hospitals
This is one of the best teaching hospitals in Kolkata, popularly known as The Institute of Post Graduate Medical Education and Research and Seth Sukhlal Karnani Memorial Hospitals. It is also popularly known as the Presidency General hospital, which is a tertiary referral government hospital in the state of West Bengal, India. It is also a national medical research institute. It is located at Race Course ground, Victoria Memorial Hall in Kolkata and treats Clients with all major specialties and super specialties.
Kolkata Medical College and Hospital
This College Commonly refers to as the Calcutta Medial College, established in the year 1835 the Hospital teaches European Medicine in Asia and specializes in offering Medial and Para Medial Studies. The hospital treats its Clients on a number of specialties such as Casualty, Ophthalmology, tropical Medicine and so on.
N.R.S Medical College and Hospital
The Nil Ratan Sircar Medical College and Hospital, also known as NRS Hospital, is a medical teaching institution and public hospital located at Sealdah, Kolkata. All major medical specialties are treated in the Hospital and some of its specialties includes, Radio Therapy, Radio Diagnosis, Telemedicine, Urology, Pathology, psychiatry and so on. The Total bed occupancy rate of the Hospital is 1890.
R.G. Kar Medical College and Hospital
It is one of the best government Hospitals in Kolkata, specializing in a number of specialties such as Intensive therapy, Intensive Coronary Care Units, Neonatal ICUs, Radiotherapy and Brachytherapy, Anti-retro Viral Treatment Center etc among others. The hospital  features with some of the best doctors in all of its super-specialties and offers preventive, diagnostic and therapeutic treatment for all the ailments, their patients complain about.
Midnapur medical College and Hospital
This renowned government hospital and college is located on  Vidyasagar Road, Medinipur, Midnapore, West Bengal, just four kilometers away from the railway station. It is a tertiary referral Government hospital that offers medical education as well. It was started in the year 2004 and specializes in all medical specialties.
Burdwan medical college and hospital
The hospital along with the college are located in Burdwan town, West Bengal. The hospital offers the most prompt emergency medical services for all casualties. Its technicians are capable of handling all medical equipment and emergency drugs to act swiftly at times of medical emergencies. Services offered in this hospital to name a few are,
Emergency Services
General Medicine
Chest Medicine
Psychiatric Medicine
Skin & venereal disease
General Surgery
Orthopaedics
Radiology
Anaesthesiology
Bidhan Nagar Government Hospital
This hospital serves as the main source of medical treatment and care for people living in the extended areas of Bidhannagar such as Sukantanagar, Naobhanga and Mhishbatan. It offers the most affordable treatment possible for common people and is equipped with all needed equipment to handle all types of medical emergencies.
Vidyasagar Hospital
This prestigious government health care facility in Kolkata is located at, Brahma Samaj Rd, Behala, Kolkata, West Bengal. The hospital specializes in obstetrics and gynecology services and also offers a number of other services such as emergency resuscitation of the newborn and the mother, High dependency units for high risk pregnancies and blood storage units.
Calcutta National Medical College and Hospital
This is formerly the Royal college of Surgeons and Physians, started by Dr. Subodh Kumar Mallick in the year 1907. It was later  changed to the National Medical college of India and Subsequently Calcutta Medical College. Its associated CNMC hospital helps in offering hands on training for the students and also in treating people of all major medical problems and casualties. The hospital specializes in a number of specialties such as Cardiology, ENT, Opthalmology, General medicine, gynecology, orthopedics, pathology and pediatrics.